When W+S Development & Patternmaking Services are Right for You
Are you interested in getting your product made with WORK+SHELTER, but not sure of the best strategy for your product development? First, make sure you read our last blog post: How WORK+SHELTER Brings Your Custom Product Designs to Life.
This second installment of our series will help you decide when it makes the most sense to work with us on your product development, versus working with an independent patternmaker or technical designer.
To decide what your development process should look like, you should take into account:
The complexity of your product idea

How many rounds of sampling will be necessary 

Whether a fit model is necessary for your process
IN-HOUSE PRODUCT DEVELOPMENT
If your product is relatively simple, will need just one or two rounds of sampling (see some examples below), and does not require fittings, we can provide end-to-end development support.
An accessory like a tote bag, makeup pouch, hat, or scarf is a perfect product for W+S in-house product development. Apparel items such as sweatshirts, t-shirts, button-up men's shirts or other apparel items we have in-house patterns for also fall into this category. In some cases we can even start from one of our in-house patterns, then customize the details (fabric, trims, prints or embroideries) to match your vision.
A technical drawing for a W+S wine bag.
You need only provide a technical sketch or physical sample (and, in most cases, some key measurements), from which we can work up tech packs, patterns, and samples. You'll be able to inspect samples and provide feedback or approval to our team before production starts.
One significant benefit of having us develop your product from start to finish is that we become thoroughly familiar with your product, which typically speeds up the production process. 
INDEPENDENT PRODUCT DEVELOPMENT
For more complex products, we recommend working with a technical designer and/or patternmaker in your area. By working with someone near you, you can be more hands-on with the initial steps of the product development process, including overseeing sampling and fittings.
You may also consider working with a specialized technical designer if you have a highly niche item that requires many rounds of product testing. And if you need help with the creative design process—deciding on how many pieces should be in your collection, how full a skirt should be cut—that's a job for a skilled freelancer or consultant.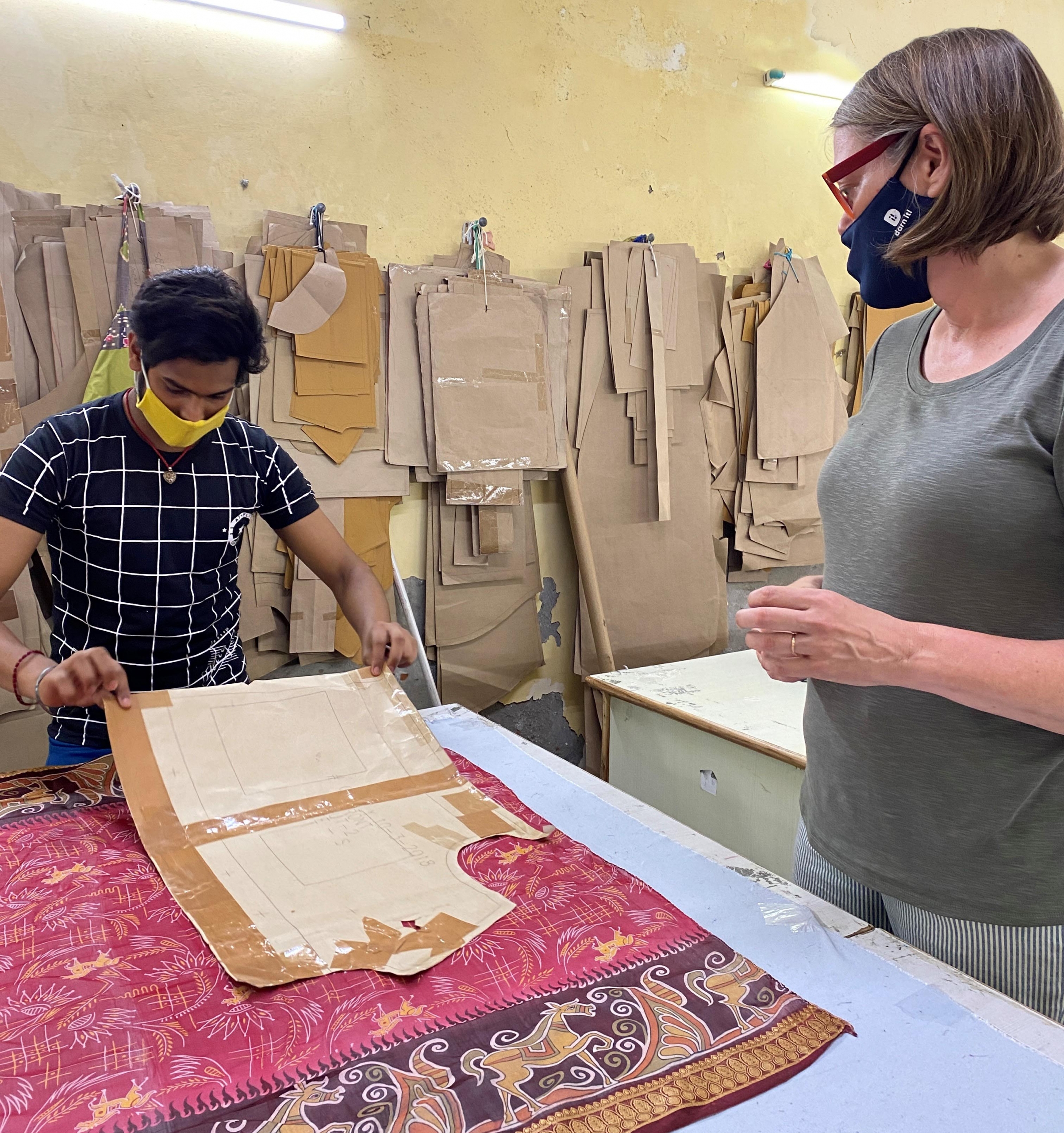 Our team placing a pattern on an upcycled sari
Hot tips –
To jump-start the sourcing/sampling process and encourage seamless transition into production,

we are sometimes able to ship fabric for your samples to you from our suppliers in India

.

When planning out your timeline, keep in mind that we require

at least one sampling round

when transferring a design from a local product development or sampling team to W+S factory production. This lets us get to know the product, and lets you check a sample for quality.
CUSTOM PACKAGES
Still not sure what you need? That's probably because every project is unique, and not every product fits neatly into one of the above categories. No problem! We're always happy to figure out a custom solution to your development needs. 
Custom packages can include any combo of the following services:
Sourcing

Measurement charts

Tech packs/spec sheets

Patternmaking

Grading

Sample making
Product-development package prices range widely depending on ease of implementation


Discussing fabrics with a prospective client in Chicago.
No matter what level of service you need, your U.S. W+S client manager will work hand-in-glove with the team in India to make the process as seamless as possible. Our main goal is to provide you with the tools and guidance you need, and to set everyone up for a successful partnership in the long run.
Check out our next post, which covers WORK+SHELTER fabric sourcing and how we work with you to find the best fabric for your product and order size.
If you have an apparel or accessory design that you're looking to develop, drop us a line at [email protected]. You can also find more information here.
https://workshelter.co/wp-content/uploads/2020/10/A10I9834-scaled.jpg
1707
2560
Theresa
https://workshelter.co/wp-content/uploads/2023/07/ws-logo-b.png
Theresa
2023-05-21 13:22:38
2023-06-29 22:49:14
When W+S Development & Patternmaking Services are Right for You